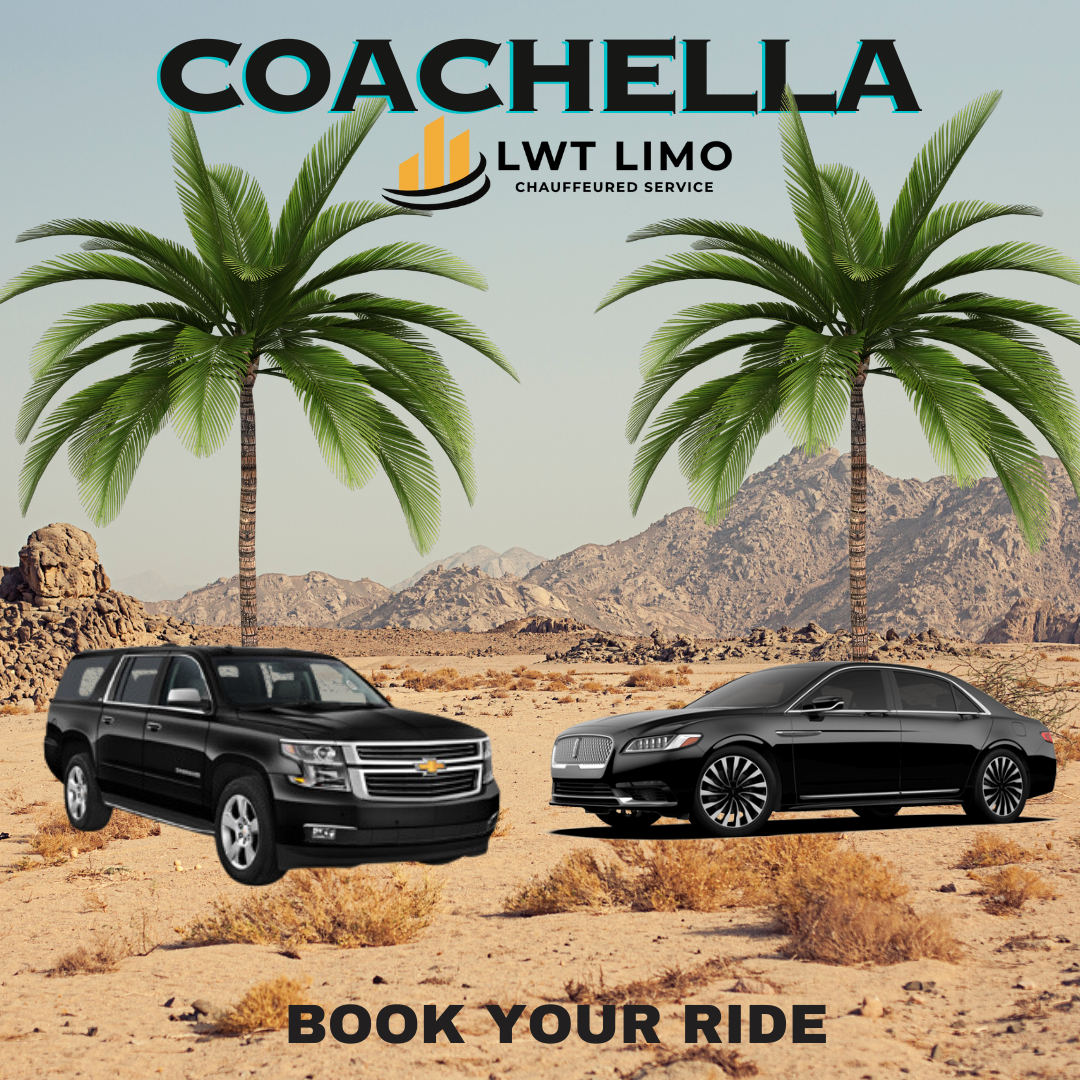 COACHELLA MUSIC FESTIVAL PRIVATE CAR SERVICE
How To Get To Coachella
The best way to get to Coachella is by hiring a private car service, we will pick you up at your home, office, airport, or anywhere in between.  We offer private chauffeured black car transportation, ride in style, comfort, and peace of mind knowing that your driver will drive you to your destination in no time.
If you're flying in for the festival, you have a couple of airport options: LAX International Airport, ONT International Airport, SNA John Wayne Airport, and Palm Springs Airport.
From there you will have to rent a car and drive yourself to Indio where the festival takes place. Just keep in mind, you must reserve your vehicle ahead of time and make sure to be rested and give yourself a heads time due to traffic or you can reserve your transportation with LWT LIMO SoCal Black car service.
The most common land is at LAX. It's the city's biggest airport, which means you'll have more options for flights on your airline of choice. There are also smaller airports in the area, Santa Ana, and Ontario, but fewer flights and airlines fly in and out of them. These smaller airports are much calmer and less busy and have much a better flying experience.
From any of those airports, LWT LIMO offers transportation to the Coachella Area, we offer no hustle, relaxed ride to Coachella 2023.
Coachella Black Car Service 
Driving around the Coachella festival area can be stressful and frustrating, also you might not find a shared ride available to take you to your destination. LWT Limo offers hourly services meaning your driver will be available for your transportation needs anytime you need a ride. The best way to travel around the Coachella festival is by booking the LWT Limo private chauffeur car service! Find out what makes us stand out & why you need to book us as your Limo service for the Coachella festival.
What Services Do We Provide for the Coachella Festival?
We take pride in providing top-notch services so you can commute stress-free anywhere and anytime. You can quickly book us for any of the conveniences below:
Airport and transfer services to Coachella

Point-to-point car service to Coachella

Hourly as Directed to Coachella
All of these services are designed to ensure your experience is hassle-free and smooth. We have competitive market rates that will serve you better and make traveling better!
We Provide Timely and Secure Car Service shuttle to Coachella
When it comes to ensuring our customers are left satisfied, we make sure we go the extra mile. At LWT Limo, we take pride in providing you with reach everywhere on time. 
How Can You Book Our Services for Coachella Festival?
The booking process is a one-click operation; just go to our service page at LWT Limo and book any of the services you wish from the online booking option. You can also check out our email and call us at the number mentioned on our website, and a customer representative will answer all your queries right away. 
Categories :

Airport Car services, Black Car Service, Black Car Service for Coachella, Coachella airport pick up, Coachella Shuttle, LAX car service to Coachella, Ontario Airport to Coachella, Ride To Coachella, Transportation to Coachella Music Festival